Our Services
Commercial Landscaping
A successful commercial landscaping project is dependent upon timely completion, quality materials and workmanship, along with eye catching curb appeal that will last long into the future. When developing a landscape plan it is important to use plants that make an impression with different colors, sizes, shapes and textures, while still being suitable for the area where they are to be planted. The ultimate goal is to create a landscape that meets all the criteria mentioned, while requiring as little maintenance as possible. Our staff is very well trained and has the knowledge and experience to accomplish this goal.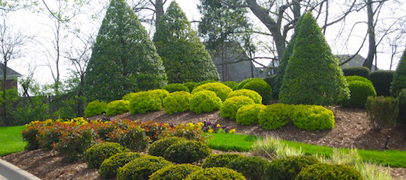 Commercial Landscape Maintenance
We know that the responsibilities of today's property managers are great. With security, budgeting and demanding tenants, time management becomes a major focus. We cannot reduce those problems but can lessen the amount of time you will need to spend managing your landscape with our maintenance services. Our employees understand that reliability, honesty, quality work and professionalism are paramount when providing our services to you.